Title: Isla and the Happily Ever After
Author: Stephanie Perkins
Goodreads: https://www.goodreads.com/book/show/21850308-isla-and-the-happily-ever-after
Published: 2014
Rating: 4/5
Source: Physically owned copy!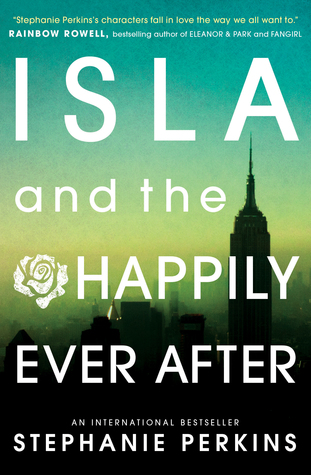 Plot:
"Hopeless romantic Isla has had a crush on brooding artist Josh since their first year at the School of America in Paris. And, after a chance encounter in Manhattan over the summer break, romance might be closer than Isla imagined. But as they begin their senior year back in France, Isla and Josh are forced to face uncertainty about their futures, and the very real possibility of being apart."
*I should note that this is the third installment in Stephanie Perkins' 'Anna and the French Kiss' companion trilogy. While I don't think it's compulsory to read them in order of publication, I would definitely recommend reading them in publishing order as the end of this book spoils the previous two books! 🙂
I really enjoyed this book! It is a cute and fast paced well written contemporary and the characters were lovely to read about. In particular – Josh. I now have a slight crush on him! I also really enjoyed the settings going from New York to Paris to Barcelona. I adore New York and it made me feel like I was back there, again. I also enjoyed catching up with Anna and Lola and where they are now and what they're doing!
The only problems I had with the book really was the major event that happens (don't want to spoil!) didn't feel very major or plot twisty. I mean, I was surprised it happened but it happened so quickly and was over very quickly? I feel like the author maybe could've dragged it out a bit more but I could see why she probably didn't want to, in case of turning the reader off.
I didn't feel like this book was as good as Anna but I do feel Isla is a step up from Lola. I would highly recommend the series overall if you are looking for a cute, fast paced, YA contemporary series to cuddle up with!