Title: Say Her Name
Author: Juno Dawson
Published: 2014
Goodreads: https://www.goodreads.com/book/show/18621200-say-her-name
Rating: 4/5
Source: Owned physical copy!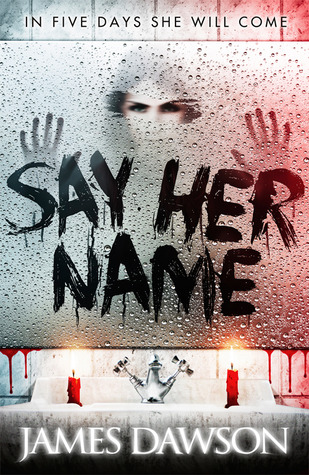 "Roberta 'Bobbie' Rowe is not the kind of person who believes in ghosts. A Halloween dare at her ridiculously spooky boarding school is no big deal, especially when her best friend Naya and cute local boy Caine agree to join in too. They are ordered to summon the legendary ghost of 'Bloody Mary': say her name five times in front of a candlelit mirror, and she shall appear… But, surprise surprise, nothing happens. Or does it?
Next morning, Bobbie finds a message on her bathroom mirror… five days… but what does it mean? And who left it there? Things get increasingly weird and more terrifying for Bobbie and Naya, until it becomes all too clear that Bloody Mary was indeed called from the afterlife that night, and she is definitely not a friendly ghost. Bobbie, Naya and Caine are now in a race against time before their five days are up and Mary comes for them, as she has come for countless others before…"
I have been waiting to read this book for ages and I absolutely devoured it.
This book is such an original take on the Bloody Mary story, it's far more complex than anything I've heard or seen before.
I really loved Juno Dawson's writing style! I'm not the biggest fan of third person perspective, to be completely honest, but the authorial voice flowed really well, in my opinion. I feel like the third person in a TPP should actually be a third person, like in The Book Thief for example or a voice that doesn't need to be specified, with the setting of a massive boarding school, somebody was bound to see what Bobbie and Naya and their friends got up to out of hours, no?
Juno Dawson has created a fantastic and varied cast of characters. I LOVED Bobbie. Oh my goodness. I saw so much of myself in her. She's quite quiet but within the possibility of danger she steps up. She loves to write stories. She was really great…. until the end.
I shall not spoil but the Bobbie at the beginning was definitely not the Bobbie at the end. Like, blackmail? Really? The ending overall felt rushed. My copy is only 287 pages but it could've been just as good if it was longer.
Her best friend Naya and their friendship was very entertaining to read. I also really enjoyed the development of Bobbie and Caine, some YA novels, at times, really rush relationships but Bobbie and Caine's felt very realistic, in my opinion.
Overall this is a fantastic horror book with an original twist on the Bloody Mary myth. The ending felt very rushed and I do wish it was longer but nonetheless – I still recommend for those looking for something different to read! 🙂