Title: Soulmates
Author: Holly Bourne
Year Published: 2013
Goodreads : https://www.goodreads.com/book/show/16099393-soulmates
Rating: 5/5
Source: Physical owned!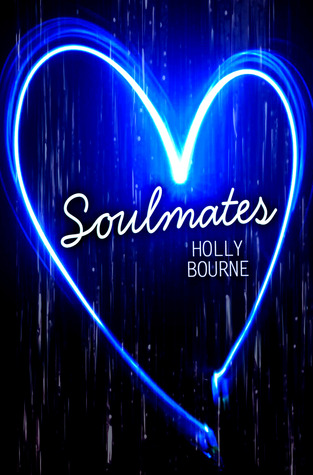 Plot:
Every so often, two people are born who are the perfect matches for each other. Soulmates. But while the odds of this happening are about as likely as being struck by lightning, when these people do meet and fall in love…thunderstorms, lightning strikes and lashings of rain are only the beginning of their problems.
Enter Poppy, the 17-year-old cynic with a serious addiction to banana milk, and Noah, the heart-throb guitarist; residents of mediocre Middletown, sometime students, and…soulmates.
After a chance meeting at a local band night, Poppy and Noah find themselves swept up in a whirlwind romance unlike anything they've ever experienced before. But with a secret international agency preparing to separate them, a trail of destruction rumbling in their wake, (and a looming psychology coursework deadline), they are left with an impossible choice between the end of the world, or a life without love…
I. LOVED. THIS. BOOK.
I
LOVED
THIS
BOOK.
I really did not expect to love this book as much as I did. The premise sounded a bit cliché to me but I picked it up anyway because I had heard nothing but good things about it on goodreads and on the blogosphere.
I really liked the twist on the romance. I'm not going to lie, this book isn't for everyone. It does get cheesy at certain points, while I do enjoy a good cheesy moment sometimes, it may not be for everyone. Poppy and Noah, at times, were so annoying that I wanted to slam their heads together but I gave a shit about them. Both characters suffer from mental health problems and I wanted them to have a happy ending.
I really liked Poppy's friendship group! I thought it was really cool to have a friendship group that was all female, like my friendship groups!
Holly Bourne has such an addictive writing style, I was completely hooked on the story. I had SO MANY QUESTIONS and I felt I got answers. The book is over 500 pages long and I must've read it in a couple of sittings, I was obsessed. That being said, towards the end I did feel with some answers they became very info-dumpy. It was a lot to process!
Overall, this is a fantastic YA contemporary romance with a twist and I would highly recommend it but if you're not into romance, or it's not your thing per sé, then I wouldn't recommend it.
:)))))))))))