Title: The Disreputable History of Frankie Landau Banks
Author: E. Lockhart
Goodreads: https://www.goodreads.com/book/show/22907596-the-disreputable-history-of-frankie-landau-banks
Source: Owned physical copy
Published: November 2014.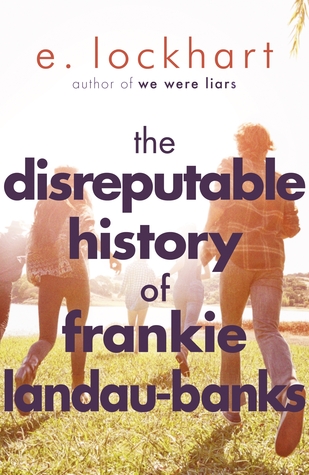 Synopsis:
"Fifteen-year-old Frankie Landau-Banks has grown up a lot over the summer. She's no longer daddy's little girl – and almost immediately after starting the new semester at her highly prestigious school, she bags goofy-but-gorgeous Matthew Livingston as her boyfriend. They get along great but then Frankie discovers that Matthew is a member of a boys-only secret society that specialise in 'hilarious' pranks. Which hardly seems fair… especially when Frankie knows she's smarter than any of its members. And to prove this, she's going to teach them a lesson.
Impersonating lead member Alpha by using a fake email account is surprisingly easy, and soon Frankie is setting the boys up with all sorts of ridiculous schemes and sending them on wild goose chase after wild goose chase. Alpha's not prepared to lose face and admit it's not him sending the emails – but the fun can't last forever, and soon Frankie will have to choose between what she think she wants, and the reputation she deserves."
Thoughts:
After reading 'We Were Liars' by E. Lockhart last year, I was so excited when Hot Key Books announced that they would be published another one of Lockhart's popular novels. I was really intrigued by the premise and the setting, I never went to boarding school so I was interested in seeing how it was portrayed in this novel. A lot of reviews I've read have described this book as a very feminist read which also got me interested.
I can definitely see some type of feminist standpoint. The main bulk of the story is Frankie being told by her dad and by her boyfriend that she can't join this "secret society" as it's all male. Basically think of The Riot Club and you have a version of that in this novel. So Frankie sets out to prank them in a way to get them back for their double standards and like most pranks, it ends up going way too far.
However, a lot of the time, Frankie really annoyed me as the book had a very "not like other girls" vibe which I can't stand now because I used to be like that and women get enough shit from other people, let's not turn on each other (this has taken me years to learn, believe me). Majority of the narrative is an essay long analysis of Frankie and Matthew's relationship and Frankie tries way too hard to not let Matthew walk all over that, at some parts of the novel, he ultimately does.
And yet, I was thoroughly entertained. I did like it. I really liked the setting and when Frankie was on her own, she was a pretty likable character but when she had scenes with Matthew she really slipped away from being a "strong independent woman" that Lockhart was trying to portray.
This is a novel with really mixed views. I was once told that this was Lockhart's best but I disagree. However, it isn't an awful novel. If you like cute contemporary romances then I think you would enjoy this novel. Maybe I'm just getting bored of romances.