Hey hey hey!
Apologies for the lateness. But you're in for a good one!
I had a really good reading month!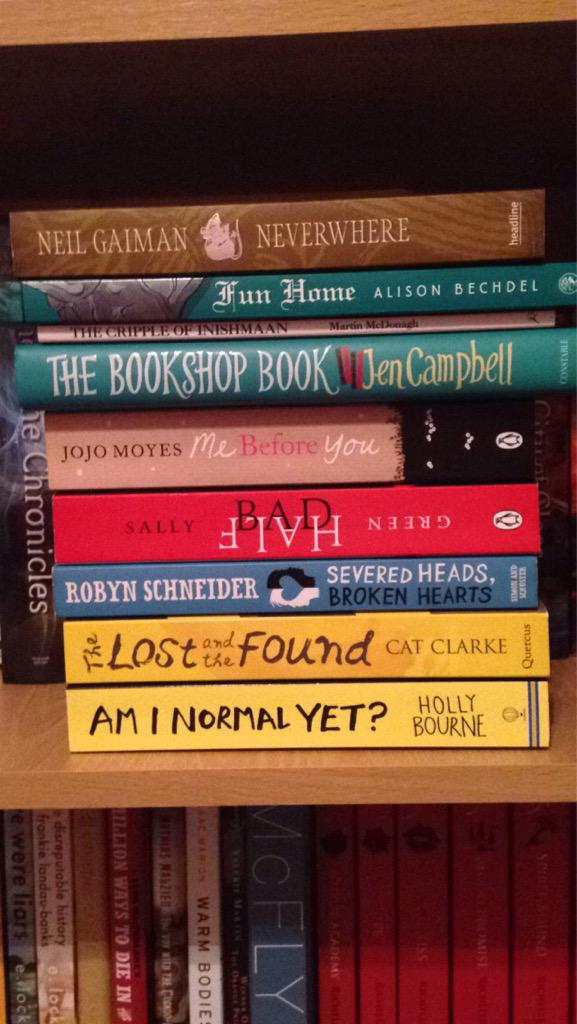 This is a really interesting fantastical take on London. We follow a man named Richard who helps out a young lady in the street one day and finds his whole world changing as a consequence and finds himself in an underground version of London. I really enjoyed this! I enjoyed the cast of characters Gaiman had assembled from the eccentric to the "normal-est." As someone who is from and lives in London I loved both settings. What is usual London is named "London Above" and the underground London Gaiman has created is "London Below". There's also a ton of play on words in this book which I loved and made me laugh so hard (there is an actual Angel Islington…)
The next three things I read were the graphic memoir Fun Home, the play The Cripple of Inishmaan and the fantastic The Bookshop Book. I finished these three during the Cramathon which you can read about HERE!
I had been wanting to read this for ages! Especially since the film has been made starring Emilia Clarke and Sam Claflin. I had quite high expectations since everyone and their mother loved this book. This follows a woman named Lou who becomes a carer for a man named Will and the book shows their relationship and how it develops. I did like that the relationship wasn't always the main focus and we get to see, mostly Lou but, their lives outside of Will's house. But I did feel that at the halfway point the book became really predictable and it hindered my enjoyment. That being said, the ending did get to me…
This is a YA paranormal first in a series about witches. Half Bad is set in a world where black witches are bad and white witches are good. And our main character Nathan is the product of both, his father being the most evil black witch out there. I really enjoyed this! I was intrigued by the world building and the back story. I do wish there was more of a back story but there are two more books in the series to allow room for that. One problem I did have with this book though was at the start of the book, it's written in second person perspective. And then it changes to first person and remains in first person. And I didn't get the point of that?
Severed Heads, Broken Hearts by Robyn Schneider
This is a YA contemporary about a boy named Ezra who basically goes drops down the popularity chain. That's it. It felt like every John Green book put together, I couldn't help but feel like I've read it all before. That being said I did find myself invested in the characters even if they weren't particularly likeable at times.
The next two books I read were The Lost and The Found by Cat Clarke and Am I Normal Yet? by Holly Bourne. I loved both of these books so much I promise to do full reviews on them asap! But the goodreads links are there if you're curious.
Thank you for reading folks!