Title: Am I Normal Yet?
Author: Holly Bourne
Year Published: 2015
Goodreads: https://www.goodreads.com/book/show/23592235-am-i-normal-yet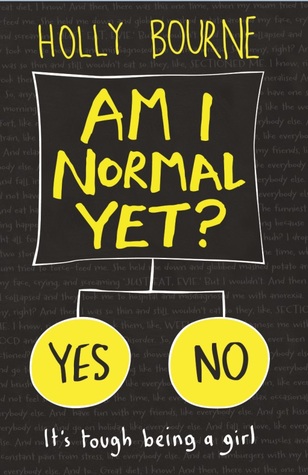 Synopsis:
"All Evie wants is to be normal. She's almost off her meds and at a new college where no one knows her as the girl-who-went-crazy. She's even going to parties and making friends. There's only one thing left to tick off her list…
But relationships are messy – especially relationships with teenage guys. They can make any girl feel like they're going mad. And if Evie can't even tell her new friends Amber and Lottie the truth about herself, how will she cope when she falls in love?"
DO YOU LIKE FEMINISM? DO YOU LIKE FEMALE FRIENDSHIPS? DO YOU LIKE HONEST REPRESENTATION OF OCD? DO YOU LIKE BANTS?
THIS IS THE BOOK FOR YOU, MY FRIENDS.
I honestly believe I found my favourite book.
Holly Bourne does not shy away or romanticize from the details of Evie's condition and how it affects her daily life through Evie's recovery diaries and the scenes with her therapist Sarah. We also get some back story into how Evie became ill and why she needed to be medicated. Holly Bourne doesn't shy away or gloss over how Evie became ill which really taught me – someone who doesn't suffer from OCD, how this illness does affect people. You can tell throughout how Holly Bourne has done her research. It's written with absolute sensitivity too. It busts a whole lot of mental health stigmas as well. The best thing about this book is that Evie's illness isn't the only interesting thing about her and that she doesn't get "magically cured" when she meets a boy. Or three in this case.
I also loved her friendships with Amber and Lottie. All three girls come together to form a feminism group which I LOVED. I loved that they encouraged and educated each other. They do this thing where they choose a feminist topic and discuss it with each other. Am I Normal Yet is actually the first in a trilogy with Amber and Lottie getting their own books that are soon to be released.  I loved all three characters. All of my friends are female and I saw qualities of them in Evie, Amber and Lottie which made me feel I was able to relate to this book.
This book is so important. It takes a lot for me to finish a book with tears in my eyes. I'm really looking forward to Amber and Lottie's stories!