Title: On The Other Side
Author: Carrie Hope Fletcher
Year Published: 2016
Source: Own copy!
Goodreads link: https://www.goodreads.com/book/show/25744542-on-the-other-side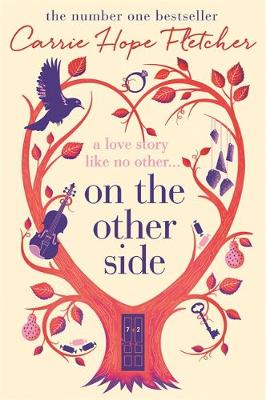 Synopsis: "Evie Snow is eighty-two when she quietly passes away in her sleep, surrounded by her children and grandchildren. It's the way most people wish to leave the world but when Evie reaches the door of her own private heaven, she finds that she's become her twenty-seven-year-old self and the door won't open.
Evie's soul must be light enough to pass through so she needs to get rid of whatever is making her soul heavy. For Evie, this means unburdening herself of the three secrets that have weighed her down for over fifty years, so she must find a way to reveal them before it's too late. As Evie begins the journey of a lifetime, she learns more about life and love than she ever thought possible, and somehow , some way, she may also find her way back to her long lost love . . ."
As a fan of Carrie's Youtube channel, I've been intrigued by this book ever since she made the announcement. Following her documentation on social media of her writing the novel has been a really great insight into her writing process. At the same time, I didn't have any expectations going into this, with On The Other Side being Carrie's first fiction novel. But I ended up absolutely adoring the book!
The book is split into three acts, one for each secret Evie has to let go of in order to pass through to the other side. The narrative also jumps back and forth in time between Evie's past and present. In the past, we see Evie's relationship with a violinist with a man named Vincent Winters (who is indeed very swoon-worthy!) and, unlike most novels with romance, I actually enjoyed reading about their relationship. It wasn't always sunshine and rainbows and I'm so glad Carrie included that. We also see the troubled relationship with her family, in particular, her mother, Eleanor & her brother, Eddie.
I really enjoyed the characters. Even the villainous ones! Carrie has created an eclectic cast & I really liked that she included a range of characters along the LGBTQ+ spectrum. I'm not entirely sure how she managed to keep up with all of the characters within a 345 page book! Evie comes from a very privileged background where names are passed on through generation after generation. Some of the Snows had the same name and even though it's for a very brief moment in the book, I did find myself re-reading the section so I wasn't constantly confused!
I didn't expect there to be elements of magical realism planted throughout the book. As someone who has spent the last 4 months binge watching Once Upon A Time, I completely geeked out when I caught the reference to the show in the book.
Overall, I found this to be a romantic, whimsical and magical adventure of a book. The purgatory stage is such a recurring theme throughout literature and film. And On The Other Side breathes new life into the theme.
You will probably like this if you like:
If I Stay – Gayle Foreman as this book & film also deals with purgatory and the fine line between life/death.
Carrie's debut novel All I Know Now. Even though it's a different genre but I saw elements of Carrie and her wisdom in lines from On The Other Side, like the ones she wrote in All I Know Now.
Billy & Me – Giovanna Fletcher, Carrie's sister-in-law. The relationship between Billy & Sophie is very similar between Evie & Vincent, where the characters jump over many hurdles that keep them from being apart.
Let me know your thoughts if you've already read On The Other Side, or the books mentioned above. I'd love to know what you think!
Until next time,
Hayley.